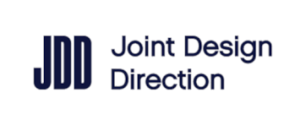 Joint Design Direction design and make high quality, bold products based on comfort and functionality. They combine young design talent with experienced manufacturing knowledge.  JDD is about designing with people in mind. Defining modern spaces needs a fresh approach. We are no longer tied to our desks, the office needs to be a useful space, encouraging collaboration, communication and privacy when needed.
Joint Design Direction are developing products to simplify how spaces are used, making those spaces flexible and easier to engage with.  As a manufacturer, they are mindful of the environment, never wasteful of raw materials and always reduce, reuse and recycle! As timber is a primary component of their products, FSC and PEFC is requested where possible from suppliers.
JDD cover everything from statement pieces that lift any space, to stylish laptop tables.  There many categories are Sofa Booths | Chairs | Roofed Dens | Sofas | Modular Furniture | Tables.