Architect
In-House Designer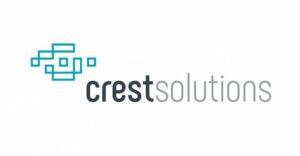 Services provided
Crest Solutions, delivers technology leading solutions in the areas of IT, automation, machine vision, serialisation, digitalisation and resourcing to high end R&D and Manufacturing sites. The client brief was to refresh the Cork based office from a large open unstructured space to an organised workspace with a number of cellular offices, meeting rooms and a coherent open plan office .  A relaxed breakout area was also created using colourful soft seating, lighting and plantlife.  Here is a list of services & products used for the project:
Working closely with the client
The main objective was ultimately to design and build a more functional workspace for the Crest Solution employees.  Multiple cellular offices were created by installing Hoyez double glazed partition walls and stud partitions to divide each office.  Individual offices and meeting rooms with acoustic properties and natural light flowing through while allowing integration with the open plan office space was paramount.  The open area is a fresh and bright space with switch desking, pastel green screen dividers for individual privacy, Humanscale ergonomic task chairs and personal pedestals for storage.  A colourful relaxation or breakout area was designed using bright soft seating and complimentary elements resulting in a beautiful biophilic inspired space.  All elements of the design, planning, project management, strip out work, fitting and installation was carried out by the Huntoffice Interiors team.