Structured and Open spaces using Glass Partitions

Space planning designs have come and gone over recent years. First with individual offices, then open spaces… Companies usually follow the mainstream trends in office design.
hOyez aim to bring you another vision of professional space planning. A different kind of partitioning, where human contact and privacy go hand-in-hand.
Structured and open spaces… with partitions!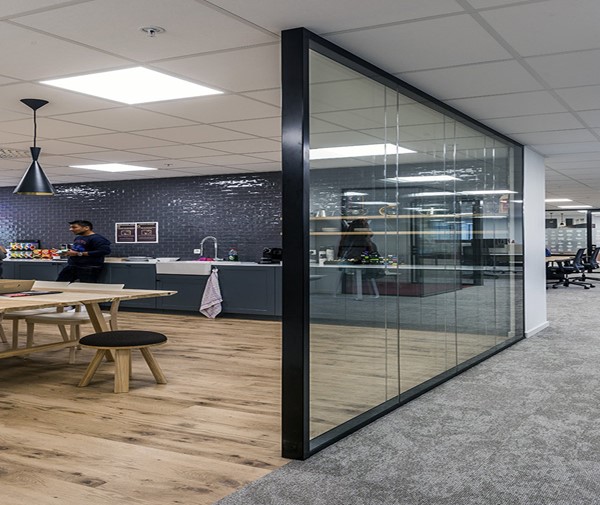 Demountable partitions, a differentiating factor
There are usually two obvious alternatives when designing spaces: partitioned offices or open areas. hOyez offer you a third alternative: to use partitions as an element to structure open spaces. Is this a new trend? More of a differentiating, customised solution that you can roll out in all your open spaces.
By assembling 1, 2 or 3 modules – glazed or semi-glazed, with or without window stickers, or solid with your choice of material (metal, wood, etc.) – you can structure your spaces without partitioning them entirely and improve the overall aesthetics.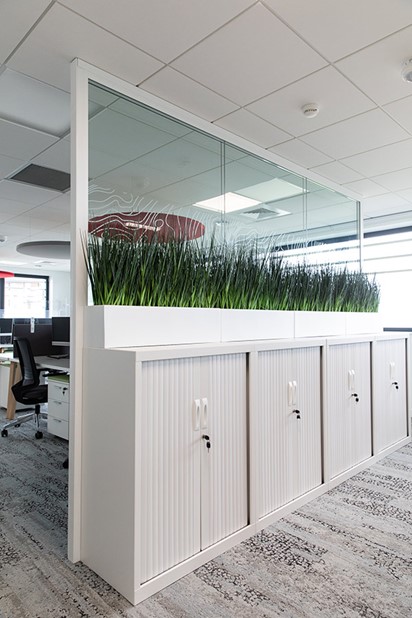 Demountable partitions, for additional comfort
Choosing a glazed partition with a solid lower panel enables you to integrate more unattractive elements. For example, you can hide the back of low cupboards installed against the solid part of the partition, while separating spaces in a useful and appealing way.  hOyez's recommendation: add a decorative plant display, the room will be energised and you will add a natural touch to the space.
You may want to play around with offices facing each other, separated by a semi-glazed partition, to foster a feeling of wellbeing among the users.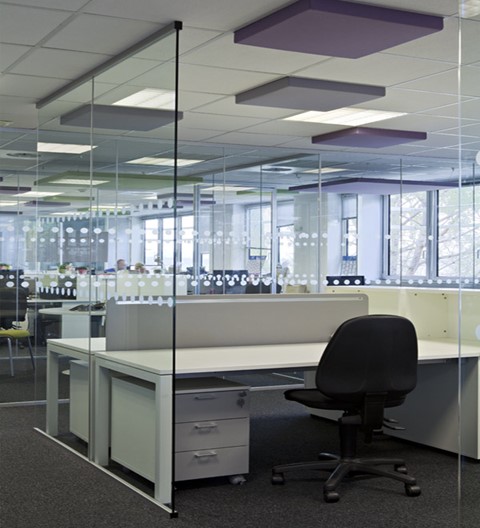 Demountable partitions, for protection in the current health situation
Glazed or semi-glazed partitions are the ideal solution for protection from fellow workers without cutting them out, while maintaining visual contact.
This floor-to-ceiling partition constitutes a protective barrier for users, whether they are sitting or standing. On the practical side, the partition glazing can be cleaned and disinfected easily to comply with the current strict health measures.
If you would you like to redesign your office space in the current health situation, simply contact us and a sales advisor will provide guidance for your project.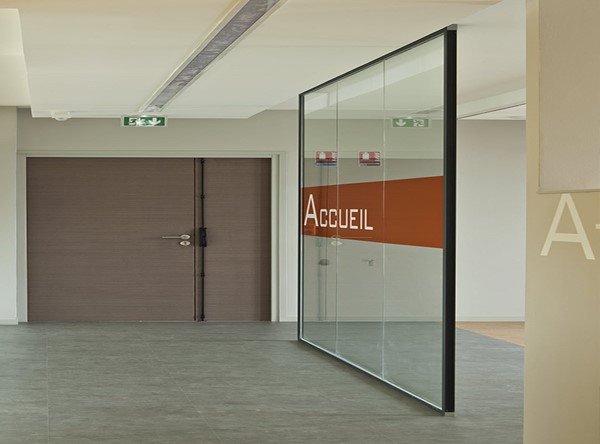 Demountable partitions, discreet and easy to install
Using partitions to structure and direct the flow of traffic, create a waiting area, separate open spaces that may be too large, etc, becomes child's play when you realise one of the main advantages of demountable partitions is that they can be assembled quickly while the area is in use.
Partition thicknesses can vary from 30 to 90 millimetres, so they take up very little floor space. When glazed, they are certain not to block the light. Semi-glazed options provide an opportunity to install furniture and storage.
Far from the traditional models, using partitions as structuring elements is a new type of planning that considers aesthetics, practicality, and health factors. This is a simple way to reorganise your departments or create quite separate, demountable spaces without being completely… partitioned off.
Huntoffice Interiors is proud to be the exclusive stockists for hOyez in Ireland. For more information on Glazed Partition Systems https://huntofficeinteriors.ie/solution/glazed-partitioning-systems/

For further information on the hOyez you can view our Partner Page or visit the hOyez website – https://www.hoyez.com/en/