Architect
In-House Designer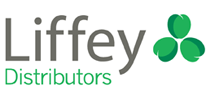 Services provided
Liffey Distributors is one of Ireland's leading distributors of Forest, Garden & Leisure Equipment and Tools including Husqvarna, Oregon, McCulloch and Flymo Products.  The Dublin based office in Ballycoolin required a full strip out of two floors including demolition work in order to reconfigure and redesign the workspace.  Stud walls were constructed to facilitate the installation of Hoyez glazed partition walls and lineal doors.  The glass partitions provide the ideal solution to create individual cellular offices and meeting rooms.  Here is a list of services & products used for the project:
Working closely with the client
This office redesign for Liffey Distributors incorporated a range of fit out solutions across 2 floors of the office building.  Hoyez glazed partitions were fitted and installed to create bright and spacious meeting room and individual offices.  The open plan workspace areas were fitted with new flooring, desks, screen dividers, task chairs and personal pedestals.  New grid ceiling and lighting were installed along with an Air Conditioning system, new electrics and a comm's room.  Other areas within the building were also redesigned including bathroom facilities.  A second phase of this fit out is due to commence with additional furniture and solutions – more images to follow.